Garage Door Spring Repair in San Antonio
San Antonio's Top-Rated Garage Door Repair Experts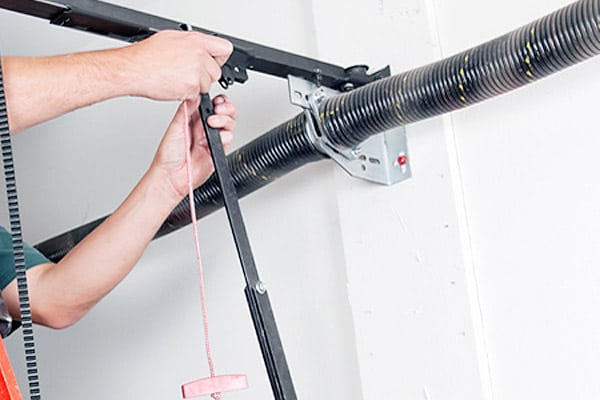 Your garage door will serve you faithfully for years before it requires repairs. Even so, one day, you might find that the door won't budge. Whether you use the keypad or the remote, you can hear it creaking and struggling, but the door remains closed. In some cases, you might hear the moment when it snaps and makes a loud bang. In either case, it might be time for a garage spring replacement.
If you need garage door spring repairs or replacements, you've come to the right place. Our garage door experts can inspect the garage door to determine what the problem is. Unfortunately, your property liability insurance might not pay for the job. However, home repair insurance or home maintenance insurance generally covers the cost. Regardless of insurance coverage, our professionals complete a thorough inspection and consider all possible solutions to reduce costs. Find out how Mega Door can help.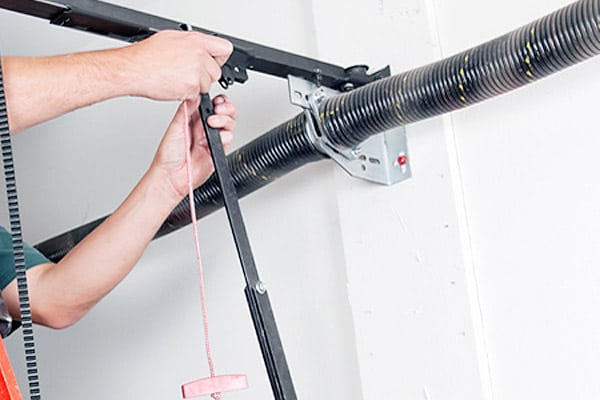 Residential and Commercial 24/7 Emergency Garage Door Services in San Antonio​
When your garage door breaks, it can be a real pain. You might not be able to get your car out of the garage, and you could be stuck dealing with a broken door for days. That's why it's important to have a reliable and professional garage door repair emergency service that you can call anytime, day or night. The process of fixing a garage door also requires a wide range of services, and these are just some of the many you can rely on us for:
Garage Door Spring Repair & Replacement in San Antonio
When it comes to garage spring replacement, homeowners should consider a proactive approach. Cleaning the door tracks with WD-40 might help to remove debris and reduce build-up. This can extend the lifespan. However, it will likely fail in seven to 14 years, depending on the spring type. Pre-empting this before the door potentially comes crashing down can prevent injury and damage.
Are you nearing the end of the lifespan of your garage door springs? Give Mega Door a call. We provide garage door installation and any replacement parts you might need. We also conduct repairs on all makes and models of garage doors in San Antonio and the surrounding areas. Don't hesitate to give us a call today.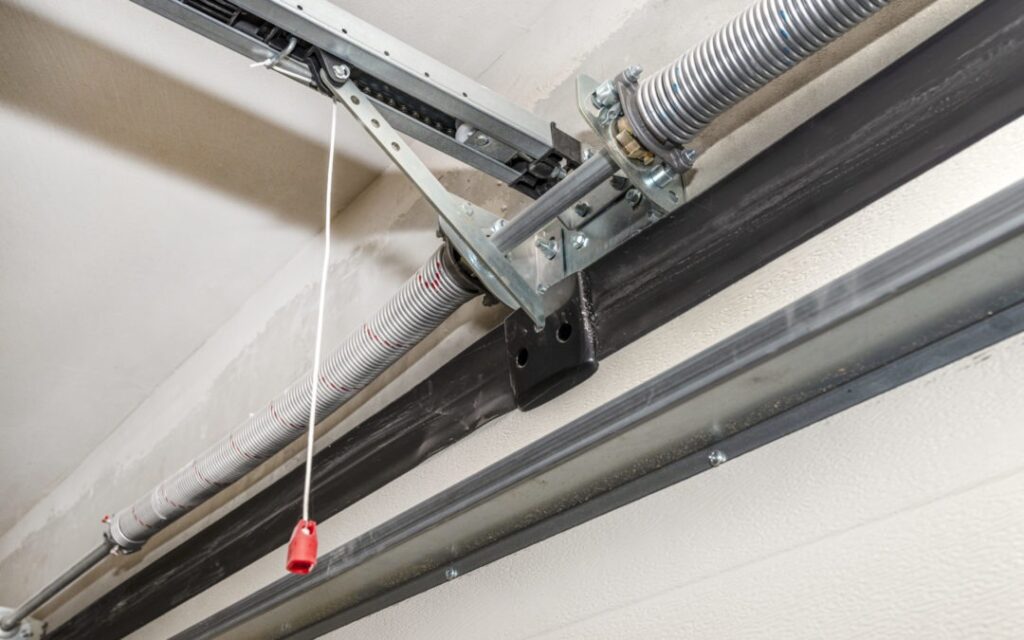 Why You Need Garage Spring Replacement Professionals
Over the years, YouTube and several popular home improvement websites have made DYing a common hobby for homeowners. However, when it comes to the garage door, this should fall under the category of things you choose not to DIY. For starters, it has electrical components, which introduces serious risks.
Insurance Risk
To make matters worse, if you choose to work on the garage door and worsen the problem, even your home maintenance or home repair insurance company might refuse to cover the damage. This could leave the cost of fixing the original and new problems entirely on you, which could cost you more in the long run.
Falling-Door Risk
Even worse, it could lead to costly and dangerous accidents. For example, if not installed correctly, the spring could fail prematurely. The garage spring holds up the weight of the garage door, so this could cause it to fall suddenly. If someone or a vehicle occupied that space, that person could suffer serious injuries, and the vehicle could have countless repairs.
Torsion Risk
The installation process has inherent risks. This stems from the fact that installers tighten the heavy metal springs to a powerful level of tension. This could cause the spring to launch like a projectile, which could cause serious damage or injuries. When compared to each other, torsion spring installations present even more serious hazards.
Professional Solution
Hiring licensed, bonded, and insured professionals ensure that another entity assumes the liability and risk. Should something go awry, the policy covers the cost of damages or injuries. If there are no damages or injuries, the company still has a responsibility to return to the job site and resolve the issue, even if it means another garage door tension spring replacement.
Types of Garage Door Springs
Garage doors tend to utilize one of two main types of springs. Mega Door seasoned professionals must first determine which one your garage door currently uses before proceeding with a garage spring replacement.
Torsion Springs
If our experts determine you need garage door torsion spring replacement services, then you can find your springs directly over your door opening. It sits on a metal shaft, and the original installers use aluminum drums to adjust the torsion to match the garage door's size, weight, and assembly instructions.
Torque-master Torsion Springs – Commercial doors and newer residences use this type of torsion setup. In this instance, a torsion shaft encloses the springs.

Steel Rolling-door Torsion Springs – Commercial and industrial buildings most commonly use this type of torsion spring. A torsion barrel encloses the springs.

Early-set Torsion Springs – Higher-end or newer residential homes most commonly use this type of torsion springs setup. The torsion shaft encloses the springs, and it manages light doors perfectly.

Standard Torsion Springs – This presents another option for newer or higher-end homes. It uses a similar setup to early-set torsion springs, except installers mount the torsion shaft in the middle. This results in a small difference in the garage door torsion spring replacement.
Tension Springs
If our experts determine you need garage door tension spring replacement services, they start by removing your tension springs. Also known as extension springs, this usually looks like a cluster of springs running parallel to each other and the door's horizontal tracks. These springs cost less than torsion springs but also tend not to last as long. Residential homes most commonly use tension springs.
Clipped-end Tension Springs – This one provides the greatest strength and durability of all the tension springs. Developers and builders tend to install these on garage doors that weigh 200 lbs or more.

Double-looped Tension Springs –These provide medium-grade strength compared to the other two options. You can spot these by the two coils connecting to the eyebolt and pulley in your garage door system.

Open-looped Tension Springs – The weakest and cheapest on the list, this relies on just one wire for strength. Once broken, even if the wire represents the only failure point, professionals need to replace the entire spring.
PREMIER GARAGE DOOR COMPANY IN SAN ANTONIO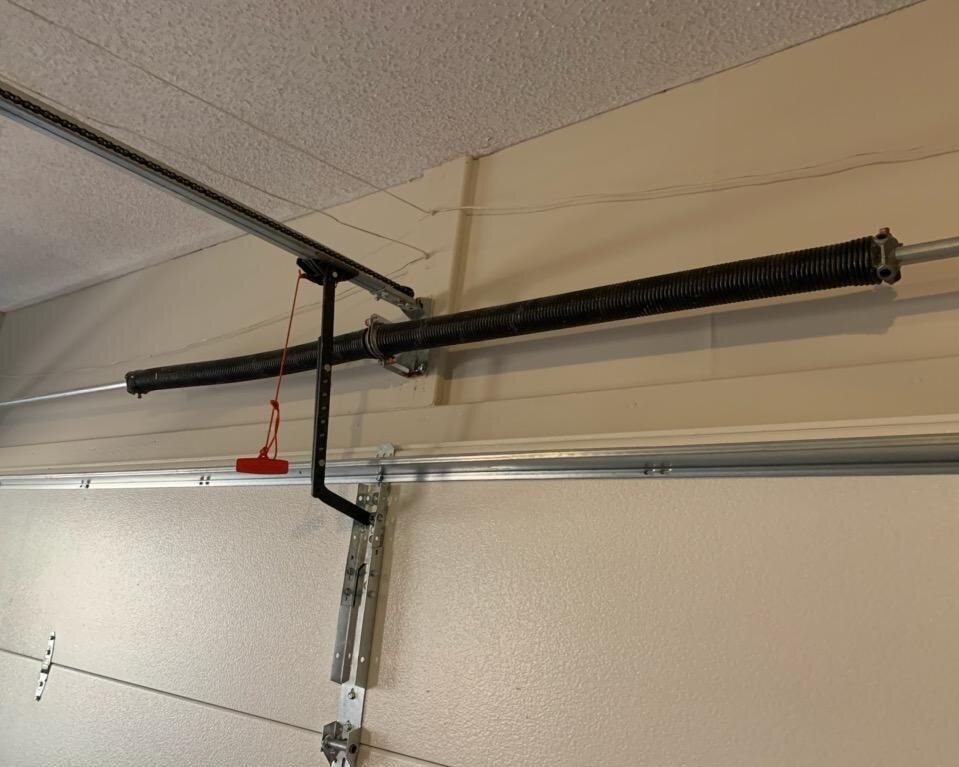 Experienced Professionals
Our garage door technicians bring decades of experience to every project we handle. Everything we do is in accordance with the latest industry standards. We hire only the best, so our professionals have impressive records of completing tasks quickly and effectively. With a garage door pro from Mega Door by your side, you get peace of mind knowing the job will get done right.
Attention to Detail
Our team members take pride in their workmanship. We understand that every task we complete is a reflection of our garage door company. As a result, we always pay attention to the smallest details to ensure that our work is of the highest quality. We're committed to excellence from the materials we use to the finished product.
Latest Techniques and Tools
In order to provide our customers with the best possible service in the San Antonio area, we use only the latest techniques, tools, and equipment to complete our projects. This helps us work more efficiently and provides our customers with superior results.
Competitive Pricing
You can count on the best price when you choose Mega Door for garage door torsion spring replacement and other garage repair services. We do extensive research to ensure we get the right parts at the lowest possible prices. Get the best value for your money when you choose Mega Door.
Bonded and Insured
As bonded and insured professionals, we reduce risks for your home or business. If accidents occur while working on a garage door tension spring replacement or other tasks, our own insurance policy covers the cost of damages or injuries. This protects you from liability. Customers can have peace of mind knowing we're fully protected.
Get Your Garage Door Spring Repaired by the Pros at Mega Door
When you call us for garage door spring repair in San Antonio, our professionals arrive promptly to assess the situation and work quickly to minimize disruptions to your daily routine. If we can fix the problem on-site, we do. If not, we'll provide a free estimate for the work that needs to be done. We never start any work without your approval first. Call us today to schedule a convenient appointment.